Flagstaff Community Profile
Flagstaff, Arizona is located at the intersection of I-17 and I-40, and is the largest city in Northern Arizona. The City is also the regional center and county seat for Coconino County, the second largest county in the 48 contiguous states.
The City of Flagstaff is comprised of just over 64 square miles nestled at the base of the San Francisco Peaks. It is surrounded by one of the largest pine forests on Earth. At nearly 7,000 feet, Flagstaff is also one of the highest elevation cities in the United States.
Flagstaff drew its name from a very tall flagpole made from a pine tree to celebrate our nation's centennial in 1876. The City is a year-round mecca for visitors and many Arizonans maintain second homes here.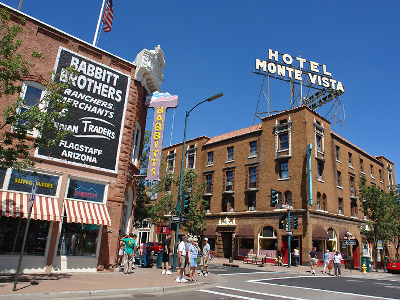 History
In 1855, Lieutenant Beale, in surveying a road from the Rio Grande in New Mexico to Fort Tejon in California, passed over the spot where Flagstaff now stands. While camping at the Eastern extremity of the present town, the lieutenant had his men cut the limbs from a straight pine tree in order to fly the United States flag.
In 1894, Dr. Percival Lowell chose Flagstaff, due to its great visibility, as the site for the now famous Lowell Observatory. The Arizona Teacher's College began in 1899, later becoming Northern Arizona University (1966). During the 1920's, Route 66 was built and passed right through town, making Flagstaff a popular tourist stop. Flagstaff was incorporated as a city in 1928.
Today, Flagstaff is a community rich with cultural diversity, beauty, and history; as well as, amazing educational, recreational, and scientific opportunities.
Communication
Flagstaff has a daily newspaper, The Arizona Daily Sun, and several weekly / bi-weekly publications. There are three local television stations and several radio stations. Cable television is available in most areas of the City.
Economic Information
Flagstaff is a governmental, educational, transportational, cultural, and commercial center. Government is one of the largest employment sectors. Tourism is also a large employer as the City sees over 5,000,000 visitors per year. In addition, the City houses Northern Arizona University and other scientific and high tech research and development industries.
Northern Arizona University
NAU, the largest employer in the City, has a major economic impact annually. The campus is used year-round and hosts many professional athletes including; the Arizona Cardinals, the Phoenix Suns, and Olympic athletes that choose Flagstaff as training site because of the climate, altitude, and available facilities.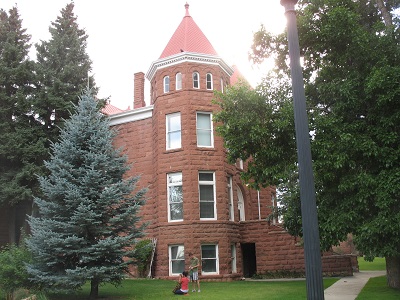 The University, in partnership with the City of Flagstaff and the State of Arizona, has institutionalized this with the development of the High Altitude Sports Training Center. The Center invites athletes worldwide to train at an elevation of 7,000, which has proven to offer a competitive advantage. The Center offers facilities, health assessments, and other services to these international athletes.
Major Private Employers
Joy Cone
Nestle Purina
SCA Tissue
W. L. Gore & Associates
Flagstaff Medical Center
Walgreens Distribution
Major Public Employers
City of Flagstaff
Coconino County
Flagstaff Unified School District
Northern Arizona University
U.S. Forest Service
U.S. Geological Survey
Education
Area Educational Institutions
Coconino Community College
Flagstaff Unified School District
Northern Arizona University
Environmental Focus
The City has dedicated considerable resources to a variety of environmental issues and local conservation efforts. The Environmental Services Division works to ensure that all residents of Flagstaff are provided with a clean, safe, and ecologically sound environment.
The programs are focused on waste management strategies that emphasize waste reduction and recycling, composting, and environmentally sound landfill management to meet the City's long-term disposal needs.
Several new programs are embracing the concepts of sustainability, restoration, conservation, and participation, such as:
Brownfield Land Recycling
Reclaim water treatment plant
Renewable energy and fuels
Sustainable building
Toilet rebate program
Use of rain barrels
Water conservation
Additionally, the City provides funding support to not-for-profit organizations such as the Resource Center for Environmental Education and the Museum of Northern Arizona.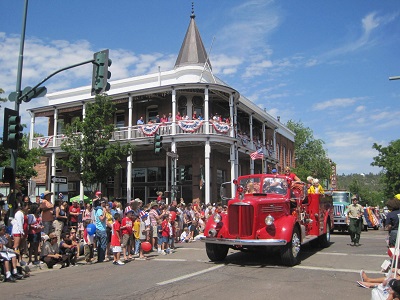 Medical
Flagstaff has an extensive array of medical facilities and resources in the areas of traditional, integrative, and alternative health care. Flagstaff Medical Center has an active staff of more than 148 physicians, representing 36 medical specialties. The Medical Center is the Northern Arizona Regional referral center for:
Cancer
Cardiac care
High-risk maternal/fetal
MRI/CT scan
Rehabilitation
Trauma and more
Recreation
The City is surrounded by coniferous forests, which allow for an array of outdoor sports, camping, and backpacking opportunities. Downhill skiers enjoy 32 runs down the San Francisco Peaks, just 14 miles from downtown Flagstaff.
Fitness & Exercise
The individual committed to an exercise routine, which includes running, or walking will find a two-mile track complete with a 20-station Vita Course at Buffalo Park, a woodland area atop a mesa with spectacular views of the San Francisco Peaks.
Outdoor Sports
Hikers, joggers, and mountain bikers will find miles of trails, which range from gentle grades to extremely difficult terrain. The outdoor sportsman will find opportunities for hunting and fishing.
Team Sports
For those who enjoy organized team sports, the City has adult and youth leagues for softball, baseball, basketball, soccer, ice hockey, and volleyball throughout the year. Additional recreation amenities include the skateboard park and disc golf course, which provide year-round recreational opportunities.
Winter Sports
Groomed trails at the nordic center provide over 40 kilometers of cross-country skiing. Endless miles can be skied on the hundreds of miles of forest service roads. Flagstaff even sponsors the annual Winter Festival that includes dog sled races.
Transportation
Air & Ground Transportation
America West-air
Amtrak-rail
Flagstaff Pulliam Airport-air
Greyhound-bus service
Mountain Line-local bus service
Open Road Tours
Weather
Flagstaff enjoys four distinct seasons. Moderate summer temperatures average 20 degrees less than Phoenix and are punctuated with afternoon rain showers in July and August.
The winter brings an average annual snowfall of 108.8 inches, much to the enjoyment of skiers, ice skaters, and snowboarders. As the snow thaws into spring, blooming wildflowers are abundant and fragrant along Flagstaff's many hiking trails.
Autumn is highlighted with the changing of the aspen leaves that transform the surrounding mountains into a golden tapestry of color.
Flagstaff averages 288 days without precipitation each year, so it is not surprising that our residents love the great outdoors, and the mild climate encourages year-round outdoor activities.
Information from this page came from flagstaff.az.gov